Hello, Chinese food lover! Today I've got 5 healthy Chinese takeaway recipes that I can't wait to share with you. The mouthwatering delicacies that these recipes will help you cook are packed with incredible health benefits. You can source the necessary ingredients from Hello Fresh, Sun Basket, or Home Chef. You can also read this honest comparison to determine where to source your ingredients from between these options. These are some of the most delicious Chinese foods you can cook at home with effort. Each meal is filling, easy to cook, affordable, and most importantly good for your health. Don't take my word for it, try these recipes to see for yourself.
1. Chinese Sweet and Sour Pork
Particularly popular in Shanghai, Chinese sweet and sour pork can be hard to resist if you love Chinese food, thanks to its enticing look alongside sweet and sour mix flavor. Here is a quick Chinese sweet and sour pork recipe that yields 4 servings:
Ingredients
For Pork
1 ½ pound pork tenderloin cut into 1-inch cubes.
2 large eggs.
2 tablespoons sliced green onion.
¾ cup all-purpose flour.
1 tablespoon minced garlic.
⅓ cup cornstarch.
1 cup pineapple chunks ¾-inch sized pieces.
½ teaspoon sesame seeds.
2 cups plus 1 tablespoon vegetable oil for frying.
1 cup chopped white onions ¾-inch sized pieces.
1 cup chopped green bell pepper ¾-inch sized pieces.
½ teaspoon black pepper divided.
1 cup chopped red bell pepper ¾-inch sized pieces.
1 teaspoon kosher salt divided
For Sweet & Sour Sauce
4 teaspoons soy sauce.
1 tablespoon cornstarch.
½ cup honey.
3 tablespoons tomato paste.
5 tablespoons rice vinegar.
1½ tablespoons water.
Directions
Mix together all your sweet and sour sauce ingredients in a medium-sized bowl and set aside.
Next, combine cornstarch and water in a small bowl and set aside.
After that, season pork with ¼ teaspoon pepper and ½ teaspoon salt.
Then combine ⅓ cup cornstarch with flour in a shallow dish.
Thereafter, put eggs and whisk in a separate shallow dish.
Now, coat each piece of pork with the flour mixture, before dipping in the whisked eggs and dipping in the flour mixture one more time.
Now, heat 2 cups of oil over medium-high heat in a medium-size pan.
Once the oil is hot enough, add the battered pork, working in 2 to 3 batches and fry until pork pieces are cooked through and are golden brown.
Next, drain pork with paper towels and transfer to a sheet pan before proceeding with the next batch.
After that, discard the drained oil and wipe the inside of the pan carefully with paper towels to clean.
Then heat a wok(a metal pan shaped like a large bowl) over medium-high heat before adding in 1 tablespoon oil.
Once the oil is hot enough, add the onions and garlic before stir-frying for 30 seconds.
Next, add in the green and red bell peppers before stir-frying for a minute.
Thereafter, add in the pineapple and stir-fry for a further 1 minute.
Now, add in the pork followed by the sweet and sour sauce and stir to combine, allowing the sauce to come to a boil thereafter.
After that, stir the cornstarch slurry before adding it to the pan and stirring constantly until the sauce thickens.
Finally, garnish the sweet and sour pork with sesame seeds and green onions and serve over rice.
2.Chinese Spring Rolls
Chinese spring rolls are a common delicacy in Guangdong and Shangai. These fried pancakes with a variety of Chinese fillings can be cooked to have a savory or sweet taste, depending on your preference.
Here is a simple Chinese spring rolls recipe you can make for four eaters:
Ingredients
24 8-inches square spring roll wrappers.
1/4 cup canola oil divided.
2 carrots sliced thinly.
2 teaspoons sesame oil.
6 cups napa cabbage sliced thinly.
2 tablespoons mirin(a rice wine used as a flavoring in Chinese food).
1/4 cup low sodium soy sauce.
2 cloves garlic minced.
canola oil.
7 ounces bamboo shoots sliced thinly.
2 tablespoons cornstarch.
Directions
To a large heavy skillet, add half the canola oil and heat on medium-high heat until hot enough.
Next, add in the napa cabbage and let cook for 8 minutes while stirring until almost dry.
Then add in the bamboo shoots, carrots, and garlic, and cook for a minute while stirring.
After that, add in the soy sauce, sesame oil, and mirin and stir again before removing the filling from the heat and letting it cool completely.
Now, mix cornstarch with two tablespoons of water.
Thereafter, lay out the spring roll wrapper and brush cornstarch slurry around the edges until they moisten.
Then, add 2 tablespoons of the filling in a long rectangle shape., making sure to fold in from the sides and roll the wrappers closed tightly.
Finally, heat 3 inches of oil in the oven and fry the spring rolls until golden brown (about 3 minutes).
3. Chinese Dumplings
Did you know that dumplings were invented more than 1800 years ago in China by a legendary traditional Chinese medicine doctor called "Zhang Zhongjing"? Well, at least now you do and I hope you know how Chinese dumplings taste like – they can be either sweet or savory, which is seemingly a typical characteristic of Chinese takeaway foods.
Here is a quick Chinese dumplings recipe that produces 4 servings:
Ingredients
1 cup all-purpose flour.
½ cup milk.
1 tablespoon margarine.
1 teaspoon white sugar.
2 teaspoons baking powder.
½ teaspoon salt.
Directions
In a medium-size bowl, whisk together flour, sugar, baking powder, and salt.
Next, stir in milk to create a soft dough. You may also add some butter if you want your dumplings to feel crumbly.
Then drop by spoonfuls into boiling stew.
After that, cover and let simmer for about 20 minutes without taking off the lid.
Serve while warm with the right pairing.
4.Chow Mein
In Chinese, chow means "fried" and mein means "noodles". So chow mein is basically the Chinese way of saying "Fried Noodles."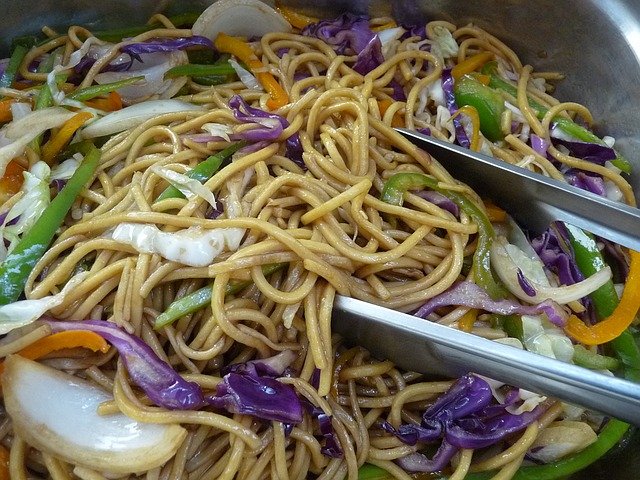 Here is an easy chow mein recipe that yields four servings:
Ingredients
A packet of Chinese pan-fried noodles.
1 teaspoon Sriracha(a Chinese hot sauce consisting of garlic, chili peppers, sugar, vinegar, and salt). Note: This ingredient is very good for your blood flow and heart health.
1/4 cup oyster sauce.
2 tablespoons canola oil.
4 baby bok choy, coarsely chopped.
1 tablespoon soy sauce.
Freshly ground black pepper and salt, to taste.
3 cloves garlic, minced.
1 packet of shiitake mushrooms.
1 cup of rinsed and drained mung bean sprouts.
2 teaspoons freshly grated ginger.
Directions
First, whisk together SrirachaIn, soy sauce, oyster sauce, ginger, and garlic in a small bowl and set aside.
Second, heat 1 tablespoon canola oil in a large skillet until hot enough.
Third, add noodles and cook, stirring frequently, until golden brown and crispy then set aside.
Forth, heat the remaining 1 tbsp canola oil in a separate skillet until hot enough.
Fifth, add mushrooms and cook, stirring occasionally, until tender.
Sixth, stir in bok choy until just wilted.
Seventh, stir in the bean sprouts, oyster sauce, and noodles mixture until well combined.
Eight, let cool and serve.
5. Wonton Soup
Consisting of a range of fillings, wonton is a traditional snack whose roots can be traced back to Northern China, even though it is also very popular in Southern China nowadays. Having all manner of local flavors, this delicacy can be cooked using different methods. Here is a quick Wonton recipe that yields 4 servings:
Ingredients
1/4 lb shrimp, chopped into tiny pieces.
1/2 lb ground turkey.
1 packet of wonton wrappers.
1/2 teaspoon soy sauce.
Vegetable oil enough to deep-fry your recipe.
1/2 teaspoon sesame oil.
Some sealing water.
3 dashes of ground white pepper.
Directions
Combine the shrimp, ground turkey, sesame oil, soy sauce, and white pepper together in a bowl, stirring well to form a sticky filling.
Next, wrap the wontons by laying a piece of the wonton wrapper on your palm and adding 1/2 tablespoon of the filling in the middle of the wrapper. Then trace the sealing water on the outer edges of the wonton wrapper, using your index finger.
After that, heat up some oil adequate for deep-frying in a deep frying pan.
After the oil is heated enough, deep fry the wontons until golden brown.
Now, drain the excess oil with paper towels before serving hot with Chinese sweet and sour sauce.