It can be challenging to find affordable healthy meals when dining out, but not in Dubai. In this part of the region, there is a growing number of local restaurants that offer healthy alternatives or menus filled with calorie-controlled plates.
Here are 12 healthiest restaurants you can choose from in the City of Gold:
1. Nathalie's Coffee & Kitchen
The Fit Republic Gym offers everything you could ever need to keep yourself fit and healthy. This massive fitness center in Dubai Sports City covers more than 11,200 square meters with several Olympic-sized facilities.
After spending several hours sweating, you can complete your health regimen by visiting the adjacent Nathalie's Coffee & Kitchen. The dining establishment offers a plethora of raw foods, low-carb meals, low-calorie options, vegetarian dishes and Lebanese-style foods.
[https://www.insydo.com/article/the-best-healthy-food-dubai-restaurants-in-dubai-for-eating-clean-healthy-and-organic]
2. Barsalata
Do you see salads as a boring appetizer? Not while you are in Barsalata. This green leafy hotspot takes pride in using the freshest ingredients, dressings, and toppings to create beautiful bowls filled with organic produce. It is the ideal haven for people who are looking to try out new salad creations.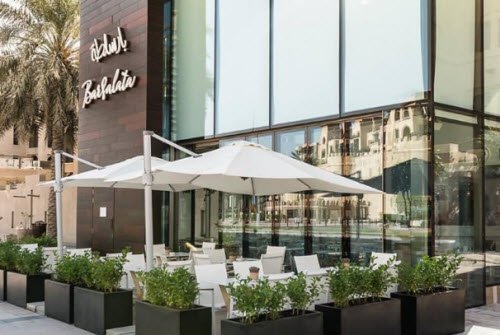 3. Circle Cafe
If generous portions of salads, rice rolls or burgers are what you are after, Circle Cafe will not disappoint. Some of their signature dishes include their falafels and Circle No Bun burger. Most of their salads are filled with cheese chunks and bagel chips so if you are looking for gluten-free or dairy-free alternatives, skip the salads and try out their Grilled Salmon instead.
[http://www.fitnessdorks.ae/food/17-restaurants-order-healthy-food-delivery-dubai/]
[http://whatson.ae/dubai/2016/01/eating-10-favourite-healthy-dishes-dubai/]
4. 77 Veggie Boutique
Are you watching your caloric intake? If so, then give the 77 Veggie Boutique a go. Here, all of the dishes on their menu include a calorie count. This makes it easier for health watchers to decide on what meals to order. The 77 Veggie Boutique takes pride in its selection of ingredients. All teas and coffees are made from organic ingredients while their dishes only use whole wheat.
[http://www.timeoutdubai.com/gallery/59464-15-healthy-restaurants-in-dubai?image=2]
[https://www.thenational.ae/lifestyle/wellbeing/the-uae-s-top-restaurants-for-healthy-eating-1.336157]
5. Comptoir 102
The trendy and stylish interiors combined with a varied selection of vegan and vegetarian dishes make Comptoir 102 a great place to visit for health buffs. Each plate is made with the freshest ingredients with all fruits, vegetables, and herbs organically grown and sourced from a local farm. Their menu also changes every day, allowing patrons to try something new with every visit.
6. KCal
KCal may be considered fast food, but compared to its counterparts, it dishes out low-calorie meals. All meals are labeled with a calorie count, making it easier to choose meals that fit into your plan. With several branches available in the city, you can opt to eat your meals inside the restaurant itself, or order from the comforts of your own home.
7. Balance Cafe
Located at the Oasis Centre in Al Quoz, the Balance Cafe offers a delicious mix of macrobiotic dishes influenced by Middle Eastern, Indian, Japanese and European tastes. Cooked using Ayurvedic philosophies, all their meals are filled with vegetables and fruits while still being rich in protein. Several cooking classes are also offered to allow aspiring cooks and foodies to learn more about their style of cooking.
8. Bestro
For strict vegans, the Bistro maybe your best friend. The Bistro is currently the only known dining establishment in the city that follows the raw principle, uses organic ingredients and offers vegan meals. Their menu also offers a selection of dishes that are free of gluten and sugar.
One of their signature dishes is spaghetti. Although it sounds ordinary, Bestro's version is made out of grated courgettes and topped with a spicy tomato sauce blend. Give this restaurant a visit after a trip to the Life Fitness gym outside or a hectic day touring the shops inside Dubai Mall.
[http://www.shortlistdubai.com/restaurants-cafes/article/8010-5-awesome-healthy-dubai-cafes]
9. Kauai
Don't let the Hawaiian theme or the fast food label fool you. This tropical paradise offers a wide selection of healthy calorie-reduced dishes designed to suit your meal plan and wallet. You won't find burgers or fries in this shop. Check out their menu, and you will discover a good range of burritos and sandwiches for main meals with roasted vegetables and brown rice as side dishes. Try out their Superfood Salad or their lamb and couscous cowl for a rare treat.
10. Cycle Bistro
For Paleo dieters, the Cycle Bistro is not one you should miss. Built by the same people who created the Cycle Hub, this flourishing cafe is recommended even by fitness gurus and nutritionists. Their menu is not just limited to Paleo dieters; also offered are a selection of vegan dishes.
[http://whatson.ae/dubai/2016/01/eating-10-favourite-healthy-dishes-dubai/]
[http://www.timeoutdubai.com/gallery/59464-15-healthy-restaurants-in-dubai?image=2]
11. Omnia Gourmet
Omnia Gourmet shows that going healthy does not mean you have to go meat-free. The menu offers a wide assortment of dishes for omnivores, although vegetarians and vegans alike need not feel left out as there are also options available for them. If you require gluten-free or sugar-free meals, Omnia Gourmet delivers as well.
The restaurant is run by the talented chef Silvena Rowe. With organically sourced ingredients, diners can enjoy a combination of local flavors prepared and cooked with a style that is unique only to Rowe.
12. Tashas
Another haven for Paleo diet followers, Tashas is well known for its assortment of breakfast dishes. It has everything from the humble porridge to pain perdu to Mexican bowls complete with eggs, red beans, and coriander. Whatever you're hankering for during the morning, you can find it here at Tasha's.
When visiting Tashas, try out their LSA porridge. Made from a combination of linseeds, sunflower seeds and shavings of almonds, it is a healthier way to start the day as compared to a bowl of cereal. Plus, each bowl comes topped with dates, a sliced banana and coconut milk. It's a great option for individuals looking for a breakfast meal free of wheat and gluten.
Dubai may be surrounded by desert, but it is an oasis for people looking for a healthy meal. Whether you are counting your calories, looking for sugar-free, gluten-free or dairy-free dishes, or are a vegetarian or a vegan, in Dubai you will find the perfect guilt-free place to dine in.