Going to the gym is a great way to stay in shape and improve your health but it also means you will need to find time to get regular trips into your routine. This can be very difficult for a lot of people due to family/ work commitments or simply because they don't have enough time. This is why creating your own personal home gym is becoming more common.
Now the majority of people doing this won't be able to buy all the equipment you'd find in the average gym. But this isn't really a big problem because you can still achieve quite a lot and improve your health with the more basic equipment. The first thing you will need to do is decide where you are going to buy the equipment you'll need.
There are plenty of suppliers online, such as UK Gym Equipment, which can be a great place to find bargains as they also sell refurbished equipment. However, finding a great deal isn't the first step to creating your perfect gym. The initial phase of your journey should be identifying exactly what you need to prepare your home space for use, as well as considering exactly what you are wanting and expecting to get out of your workouts.
How Much Space Do You Have?
Gym/exercise equipment comes in many different forms from small sets of dumbbells to larger pieces of equipment like treadmills, exercise benches, and stationary bikes to name just some examples. But you will have to build for space you have available.
Most people building a home gym will likely only have a small space available. But if you can transform a spare room into a personal home gym then you can take advantage of the bigger machines. However, I would still recommend starting off small and sticking to the basics, so let's take a look at what home gym essentials you should focus on first.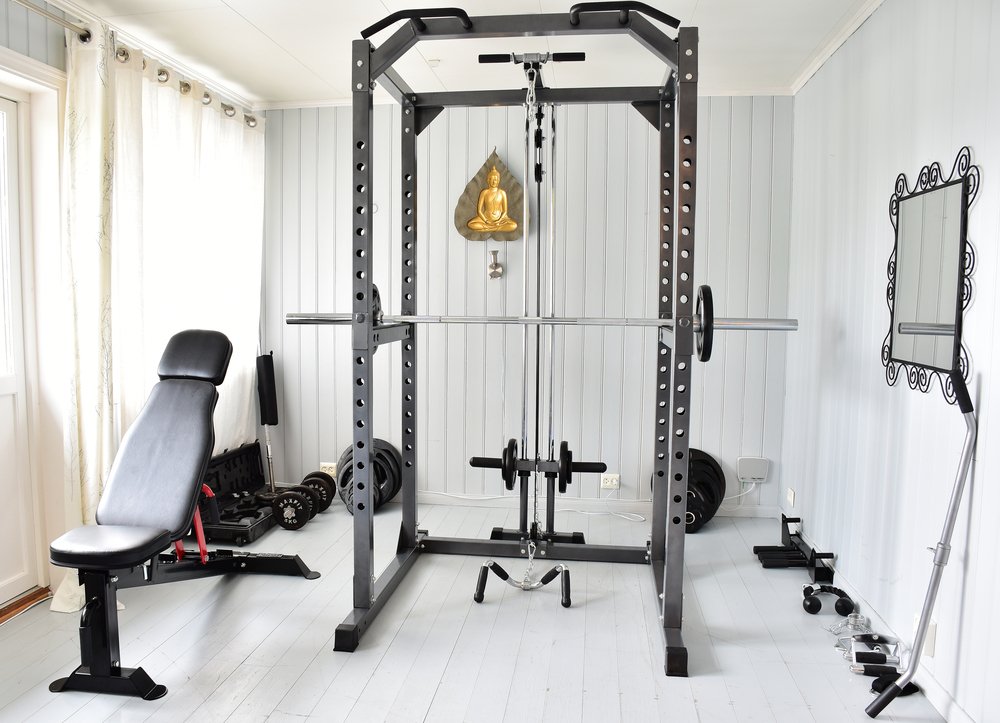 Dumbbells
Dumbbells are simple, easy to use exercise equipment which makes them ideal for home gyms. You also have a lot of different options when it comes to how you use them and they are available in numerous different styles.
Some are fixed weights while others will have adjustable weight plates so you can make them heavier or lighter depending on the exercise you are doing. Dumbbells also don't require much room to store either so if you only have a small space for your home gym they are a great choice.
Kettlebells
A kettlebell is similar to a pair of dumbbells in many respects but you can utilize it in different ways to carry out various exercises. A kettlebell is also very simple and easy to use and pairs well with dumbbells.
They are available in numerous different weight classes and again easy to store away when not in use. Just make sure you have enough room if you want to try some of the classic kettlebell exercises as they require more space to carry out safely.
Skipping Rope
Whether you call it a skipping rope or a jump rope it's important not to underestimate this piece of equipment. A skipping rope is a valuable tool when it comes to cardio workouts and is also commonly used in high-intensity training as well.
Skipping ropes are also easy to use, most people will have played with them as a child after all and the principle is still the same in many respects. While most skipping ropes will do the job fine you can find some that have been specially designed for exercise.
Gym Mats
Gym or yoga mats are a must-have when it comes to your home gym and trust me they will make a big difference! They won't just protect your flooring or carpeting they will make working out more comfortable as well. Not every piece of home gym equipment will be solely about exercise after all.
These mats will help ensure your health and safety while you work out and best of all they are available in numerous different sizes as well. Plus, many of them can also be easily rolled up for safe storage afterward.
Medicine Ball
A medicine ball is one of those pieces of gym equipment that looks a little silly at first, after all, how can a ball really help you work out? But once you learn how to use a medicine or fitness ball properly you will learn just how useful it can be. It is a very versatile piece of equipment and especially valuable when it comes to cardio workouts but it can be used for muscle building as well. Medicine balls are also available in numerous different sizes and are easy to store away.
Fold Away Cardio Equipment
When space is at a premium, you want to ensure that not a single inch is wasted. Cardio machines are a staple of any gym and should feature as part of your own personal set up. Of course, equipment such as treadmills, bikes and cross trainers have the capability of taking up too much space as they can be rather clunky in size. That's why so many invest in gold away options, meaning that even the smallest of rooms can still accommodate cardio equipment, allowing you to truly work up a sweat!
So, that is some of the main basics you should have for your own gym, provided you have the space available. When it comes to assembling your own personal gym, there are many things to consider aside from space which include, but not limited to:
Practicality – is it practical to workout in the area of the home where you intend to place your equipment?
Safety – are there any children and/or pets in the household that may mean having to keep equipment out of harm's way when not in use?
Use – How likely are you to use equipment at home on a regular basis? Gym equipment has the potential to be an expensive investment
Having considered all of the above, and still coming to the conclusion that a home gym is an ideal solution for you, all that is left to say is have fun creating your own fitness station!