Shopping for the perfect gift for your partner this Valentine's day won't be any easy as there are too many choices available on the market. And nothing seems ideal at the same time as you browse through the options, and you end up confused. Chocolates, beauty products, cosmetics, health drinks, everything seems like a good option. But this Valentine's day you can introduce the power of CBD through these innovative and exquisite products to impress them with a lovely and thoughtful gift. These brands blend the fine benefits of CBD in their elegant product ranges to deliver to you a gift like no other. These products will make your special day even more special with a touch of love and good health.
Herb Essentials Perfume Oil: Brighten up her day with some enchanting aroma through Herb Essentials perfume oil. The blissful aroma of the perfume is a captivating smell to begin a romantic day. Herb essentials combine the goodness of high-quality Cannabis Sativa Oil blend in citrus fragrance and bring together a unique note to cherish. The flavors are sophisticated and do not indicate the presence of Cannabis in any way. It is refreshing and leaves a beautiful feeling that makes for a lovely choice of gift.
Lord Jones High CBD Body Oil: The gorgeous branding and packaging is only the beginning of this impeccable product that oozes CBD. The High CBD Oil promises to take care of your skin and create a relaxing routine like no other product before. It contains about 100mg of CBD in every bottle. The rollerball applicator makes it easy to use, and this broad-spectrum CBD oil comes with an enticing aroma of organic avocado, safflower seed oils, and jojoba. The soft notes of bergamot, and orange that embodies the oil will take your loved one on a calm and relaxing journey. It is a product that can also treat skin conditions and relax muscles post-workout. Give your woman the power of relaxation in a bottle.
Calivolve CBD infused Chocolate Truffles: Chocolates feel like a typical Valentine's Day gift. But not when you choose a premium range with CBD infusion, because it makes the gift unique and healthy too. Calivolve creates chocolate truffles that are next-level delicious, smooth, and creamy with a rich content of inflammation soothing CBD concentrates. It is the easiest and fun way of introducing CBD to your Valentine that promises a wonderful experience with the compound. Even if your Valentine doesn't enjoy chocolate, the balance of flavors in this truffle will make them a fan of this incredible gift. You can explore a few other choices of CBD infused chocolates at online dispensary canada sites.
HighOnLove CBD Body Paint Chocolate: What is more romantic than relishing chocolate on Valentine's day? The answer is eating it off your Valentine. HighOnLove presents a delicious choice of body paint chocolate that is saucy and smearable and makes an intimate and sensual gift. This CBD infused chocolate is an extraordinary aphrodisiac that comes in a luxurious packaging in a darling heart-shaped bottle. The body paint chocolate does not make you feel high and gives a comfortable feeling making it the perfect gift for your special day together.
Sunday Scaries CBD Gummies: Gummies may not be typical V-Day gift material. But blend these cheerful drops of childhood nostalgia with a dose of CBD, and you get the ultimate gift for this special day. Gummies, apart from their enriching flavors and vibrant colors, contain high-quality Broad-Spectrum CBD oil, Vitamin B12, and D3 that will help you enjoy a relaxed yet focussed week. The bottle contains about 20 gummies, each with about 10mg of CBD that makes it the ideal way of micro-dosing on some healthy CBD goodness. Organically sourced, the CBD effects kick in slowly and stay longer to make sure you enjoy every little bit of it.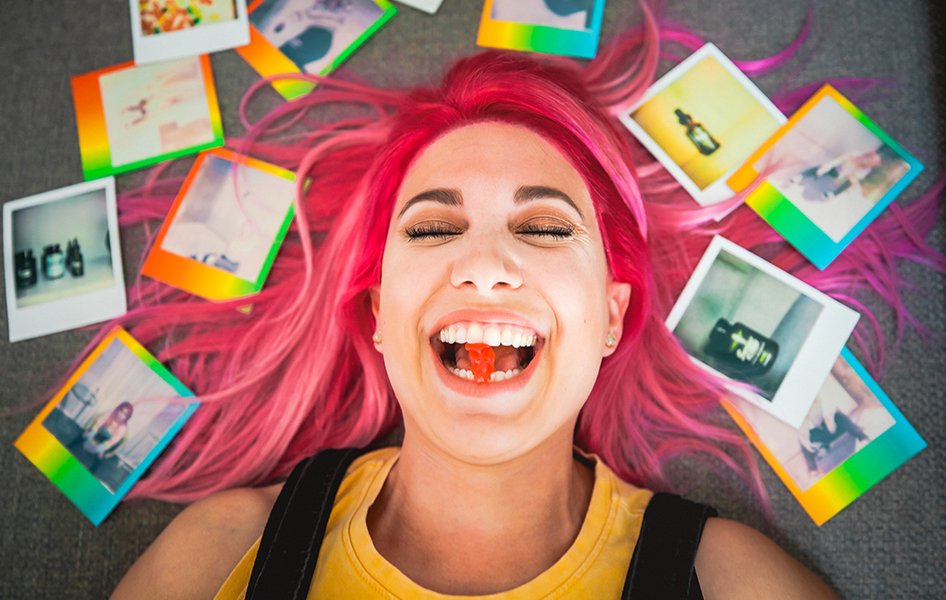 Vertly Hemp CBD Infused Bath Salt: Gifting a soothing and refreshing bath with luxurious bath salts could be a great way of saying how much your care. Vertly comes with the best blend of CBD infused bath salts that can amplify the tranquilizing powers of a bath, giving you an experience like never before. It contains a mixture of Sea Salt, Epsom Salt, Essential oils, Full-spectrum CBD, and a profile of botanicals that work together to create the ultimate soreness-soothing bath salt. The calm packaging and the soft aroma that tingles when you add the salts to the water is a mind-blowing experience your Valentine will appreciate.
Seventh Sense Pebble CBD Lip Balm: Seventh Sense brings the finest collection of CBD infused lip balms in bright new flavors and elegant tint to make it an everyday essential. The smooth and creamy texture, created with a formulation of Vitamin E and CBD, ensures to keep lips moisturized and hydrated all day. The lip balm gift set is the perfect way to treat chapped lips this season and glow bright all day. The Gift set comes in an elegant box with three lip balm flavors, Red Chrome – Sugar & Spice, Winter Berry, and Peach Bellini, all of which carry a glossy touch. The most fun part about these lip balm kits is that it is safe to use.
Kush Boy Candle: The luxurious smell of this sensational aromatic candle will lighten up the mood and set the atmosphere to cherish a romantic dinner this V-Day. Kush Boy candle blends the aromatic magic of tulips, musk, suede, amber, and the earthy tones of cannabis to bring together a fragrance you have never experienced before. The aroma instantly kicks in when you light it and slowly spreads in the air to create a space that is calming and romantic. Add some beautiful candles to a gorgeous dinner, and you can enjoy the gift together on a romantic dinner date.
Inesscents Salvation Bath Products: Crafting the finest CBD infused bath and body range, Inesscents Salvation soaps and bath salts define luxurious bath time in elegant packages. Enriched with aromatic flavors of Eucalyptus, Lavender, Charcoal, Tea Tree Oil, and Oatmeal, the bath range brings a refreshing and relaxing feeling to your bath. The brand also offers a beauty line with high-quality CBD that revolutionizes skincare. It calms any skin problems, hydrates, and moisturizes for a soft texture, and adds a gorgeous glow to keep your skin healthy and happy.
RadRitual Cosmic Mermaid Soothing Beauty Oil: For your beauty conscious Valentine, RadRitual introduces the perfect beauty oil that promises gorgeous skin. The Cosmic Mermaid beauty oils bring together the goodness of Sheet nut, Vitamin E, CBD, and the rich fragrance of Jasmine that makes every drop an elixir for the skin. The oil has calming and hydrating properties, apart from protecting the skin from damage and ailments. It makes sure the skin looks gorgeous all day and gives a slight dewy look to carry even on a no-makeup face.For more information read about this and buy today.
Yuyo Botanicals Sample Box: To your fitness conscious bae, there is nothing better than this post-workout box that will make a thoughtful and memorable gift. The sample box by Yuyo Botanicals is the right size to introduce your Valentine to CBD's way of fitness and health. The box contains a blend of turmeric and hemp salve that relieves post-workout stress and muscle tension, apart from supporting recovery. It also contains morning and evening tinctures that aim to manage muscle cramps and aches and reduce anxiety. This sample box is a perfect starter kit to encourage your Valentine to a path of good health and wellness the natural way.
Gron Indulges Gift Box: The Gron Indulge Gift Box is the best gift to fill up kitchen and dresser racks with some CBD rich products. The box contains CBD caramel sauce, assorted chocolate bars, and CBD chocolate sauce that will become kitchen staples in no time. Do not forget the beauty edit of the box, which comes with a face mask, CBD tincture, and body balm that will kick your beauty regimen up a notch. The gift box brings in some unique CBD products together to cheer up your loved one this V-Day.
Use these elegant CBD products to impress her this Valentine's day. It could be a beginning together for more CBD days to come.