A creative mind is a talent that you are blessed with, so make the most of this talent to give an edge to your life that sets you apart from the rest. Interestingly the excitement about having a creative mind is that you can earn a living with it and make a fortune that could survive your next generation. Confused? Well, think about all the ad agencies and the creative team who come up with quirky fun ideas to make the ad a success. But unfortunately in today's time and age there is a dearth of such creative minds and all that the creative team banks upon today is proper marketing. Therefore, it is important that we nurture the creativity among people and also help them preserve it in spite of the fast paced lifestyle that we all have today.
Here comes meditation
The basic problem as to why people lack creativity would be because of the kind of lifestyle that they all are leading today. There is a lot of stress and tension about life in general, be it about your career, about your relationships or even family. It is because of this that people are not able to have a free mind for creativity to flow in. The absence of creativity is also quite a big risk since that's the reason many people get the big bucks. So in an attempt to keep our mind fresh with creative ideas pouring out like a volcano waiting to erupt let us do what it takes to achieve that – meditation. Meditation or Mind Healing Programs helps us to keep calm and have a peaceful state of mind. Meditation helps you to have better clarity, insight, enhanced focus and improved calmness. It is a must to spend 20 minutes of your life everyday sitting on a mat in the wee hours of the morning trying to breathe easy and focus on your present, and not engage your mind in the complicated and tangled thoughts.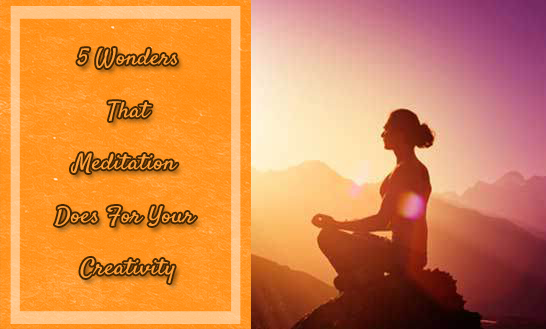 Benefits of meditation on your mind
Make meditation a part of you so that you can shape a better life for yourself. Always remember it is never too late to do that. So here are the five things that will help you boost up your creativity for that flourishing perfect career, take a look at them:
Focus – winners have one thing in common which losers don't have and that is focus. Focus is important in improving your concentration span as well. Yes, we all have our own set of tensions but when at work it is important that we put all our focus on the work that we are doing. Meditation is all about focusing on your breath and this in turn helps you to focus on everything that you are doing.
Patience – the world today has become extremely fast-paced and we are all in a hurry to be on top of the rat race. Obviously this implies that the level of patience among people is on an all time low for many, rather for the majority. So meditation comes as the biggest blessing to save our short-lived patience level. When talking about creativity not all ideas the way you visualize them come out like that so it is important for you to have patience and believe that the tables will turn in your favor.
Clarity – clarity of thought is one of the biggest tools in helping you be very clear about the kind of idea you want and how well they get represented in front of you. Clarity of thought only comes with meditation because your mind is fashioned to be clear all the time about your life, wants and priorities.
Perspective – meditation helps you to watch your own breath, feelings and the random thoughts that come across your mind. It is only when you watch yourself so closely you get to realize that the everyday worries which give you sleepless nights are all so small and trivial in nature compared to life as a whole. It is then that you get your actual perspective on life and understand that the small things are the important ones that make your life worthwhile.
Calmness – if you were told to watch your own thoughts for as long as just a minute you will be horrified to see the number of random thoughts that flashes across and not even for a second is your mind blank. It is through meditation that you can practice to keep your mind blank and only then will you achieve to have a calm mind. Even in the midst of so much of stress and anxiety you will see that your mind is calm and well-settled.
The prolonged process of constantly meditating will pleasantly surprise you as to how powerful your mind is and the mental strength you have. You already have it in you but the daily stress that you deal with has pushed this strength in a deep corner. So do your bit to bid a final goodbye to all your worries that not even constitute in making your life worthwhile.