Whether you yourself have either recently been experiencing mobility issues, regardless of severity, or else a member of your family or close friend has had to adapt their lifestyle due to a change of access needs, then there are certainly more than a few points to familiarize yourself about in terms of help and assistance.
So here, for your information and to hopefully go some way to clearing up one or two misnomers surrounding accessibility and living with a reduced level of mobility, are six basic facts about mobility aids that you should know.
1.   Walkers are More Manageable than Crutches
Generally, a good quality knee walker is significantly lower to the floor and therefore sturdier and a lot more stable than crutches. Aside from that, knee walkers are usually equipped with more space, are cushioned for extra comfort, and allow your injured leg to rest when needed.
In addition, when a person uses crutches, not only do their hands and lower (and upper) arms feel uncomfortable and even sometimes downright painful, but their hands are obviously always being used to maneuver. When traveling with a walker, however, once you have gotten used to the steering, your hands will be entirely free.
For people with strong upper body strength and a relatively high level of physical fitness, however, crutches do enable a faster walking speed, so this may also be a factor when choosing the right style of mobility aid to suit your needs and circumstances.
2.   Trial and Error are Your Friends
As you will obviously already be fully aware (especially if you have been living with issues associated with a reduced level of mobility for some time), whereas one person can experience a huge positive benefit from a wheelchair, for example, another person may find them hard to maneuver and that they still cause pain in one or more parts of the body.
To make sure that you keep your costs and both one-off and monthly spending to a relative minimum, take the time to research both online suppliers and high street stores that give the option to hire a walking frame, scooter, or wheelchair and spend more time thoroughly trying out each style of mobility aid.
3.   Small Changes to the Home are Worthwhile Investments
Along with your choice of mobility aid, be that in the form of a wheelchair or scooter—or perhaps a more temporary option such as a walker or crutches—it would also be pertinent to invest in some key home adaptations as well.
Such changes to certain elements in and around your home, as well as more structural adaptations, include, but are not limited to, the following:
Adapted food and kitchen utensils
Pressure-reliving cushions
Toilet frames, grab rails and raised toilet seats
Rise and recline chairs and chair raisers
Stairlifts, slide sheets, and mobile electric hoists
Wheeled shower chairs, electric bath lifts, and lever tap extensions
Outdoor rails and fixed wheelchair ramps
4.   Battery Life is Important
If you are considering investing in an electric wheelchair to help make everything from grocery shopping to meeting friends in a local coffee shop substantially easier, convenient, and more enjoyable, then one point you have to know to finalize your decision is that mobility scooters certainly do go the distance.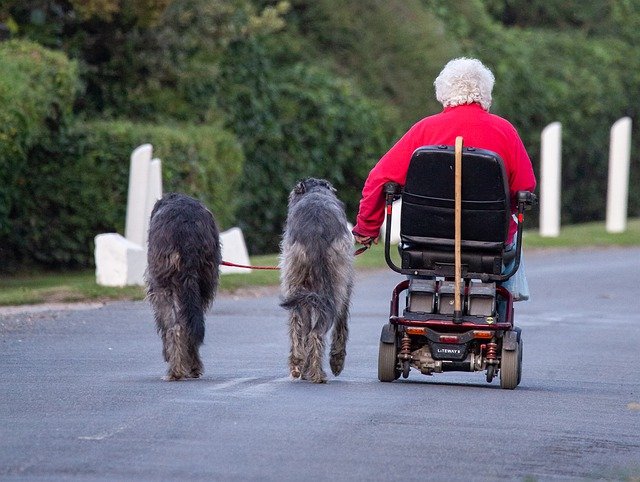 Generally, such a scooter purchased from a reputable, renowned, and established supplier such as mobility scooters UK will have a battery life of at least twenty miles before it needs charging, with some makes and models even coming with an on-board charging option.
Other fundamental benefits of a mobility scooter to increase the range of accessibility of an individual include:
Mobility scooters can be taken on all forms of public transport
Such scooters are incredibly easy to operate and maintain
A greater level of freedom, independence, and happiness (and therefore improved mental health) are key benefits of investing in a mobility scooter
5.   All Kinds of People Benefit from Mobility Aids
Contrary to popular belief, it isn't just people with temporary, or indeed permanent, visible physical problems who can benefit from the use of one or more mobility aids. Such assistance with accessibility can also help people who are living with:
Diabetic wounds and ulcers
Gout
Spina bifida
Multiple sclerosis
Visual impairments
Arthritis
Disabilities relating to the development
Balance and posture problems
Foot issues
Stroke or brain injury
Cerebral palsy
Broken bones or fractures in a place other than the arms or legs
Lung problems
Issues with the heart
6.   Only Use Walking Sticks for a Short Amount of Time
Certainly, in the first few weeks of your injury or change in your levels of overall mobility, investing in a walking stick is a good choice to help gain confidence in your own situation.
However, as a long-term mobility aid investment, walkers—more commonly referred to in the United States as Zimmer frames—not only offer substantially higher levels of physical support but are also much more effective outdoors, where the ground is rough and uneven. Most quality Zimmer frames are made from incredibly lightweight aluminum, with rubber covers on the feet of each leg (called ferrules) and can therefore be entirely adjusted to suit the height of the individual user.
By far the best way to ensure that you invest in the right style, make, and brand of Zimmer frame to suit your own personal needs and situation is to have the store measure you for your frame.
These days, mobility aids have come an incredibly long way in terms of sophistication and effectiveness and as a result, not only should you spend time investing in the right type, style, model, and brand which best suits your situation, but you should also allow yourself the freedom and independence which you categorically deserve. Being as mobile and independent as you possibly can will not only ensure your physical levels of health and fitness are as high as they can be, but also that your mental health does not suffer as a result of being unable to do tasks for yourself and to get around your local area without the help of another person.