EMBRACE THE AGE GRACEFULLY, BUT NOT WRINKLES
Everyone wants to grow old without facelift and does not want to look like a wrinkled leather bag. Wrinkles are creases, folds, or ridges in the skin which are developed by the natural process of aging, exposure to environmental factors, unreleased stress and repetitive facial movements such as smiling, frowning or squinting.
Taking care of your skin naturally still means you can combat wrinkles. It also means you're honoring the life you've lived, and the face you've made, by helping to age gracefully.
Honoring the skin you have doesn't mean just letting it go and doing nothing. Rather, taking care of it naturally so you look your best and age gracefully.
Remember; be gentle with your skin, especially the skin on your face. Because it's so thin and delicate, scrubbing it hard or drying it vigorously with a towel pulls on the muscles which, over time, will lead to sagging skin. Instead, wash gently and pat dry softly.
Ayurvedic Perspective on Wrinkles
In Ayurveda, wrinkles can be preventable and that too naturally.
Wrinkles are caused by the natural breakdown of collagen and elastin in the skin. Years of exposure to the harmful UV radiation from the sun are also responsible to add to the problem. This sign of aging tends to appear around the eyes and mouth in your thirties.
And In Ayurveda fortunately, there are plenty of ways to iron them out before they develop into deeper wrinkles as well as prevent them from hitting your skin.
Skin Care for the Doshas
An imbalance in the three Doshas can create skin problems.
An imbalance of Kapha can affect the moisture balance of the skin.
Effective metabolic functioning balances various chemical and hormonal reactions of the skin. Pitta affects these aspects.
A deviation of Vata leads to the inefficient circulation of the blood and nutrients to the different layers of the skin.
Here's What You Can Do.
Vata Skin Type:
This type of skin should be nourished well and rehydrated to avoid wrinkles and premature aging. Warm essential oil self-massage and herbal moisturizers help a ton.
Pitta Skin Type
Good herbal sunscreens and essential facial skin oils should be used daily.
Kapha Skin Type
Daily warm essential oil massage and cleansing of the skin with gentle herbal-based exfoliation is advisable to prevent wrinkles.
How to Fight Wrinkles Naturally
The good news about your skin is that it doesn't need the chemicals and treatments that many skincare salons claim you must have, in order to keep looking youthful. There are plenty of things you can start doing to get healthy-looking and free from wrinkle skin.
There are natural ways to avoid and reduce wrinkles
There are several home remedies you can apply for preventing wrinkles
Turmeric, Gram Flour & Yogurt
Turmeric(Haldi) is an extremely powerful ingredient that has many uses, including getting rid of acne scars, blemishes, and wrinkles. It contains calcium, vitamin B6, potassium, vitamin C, and magnesium which help build up collagen and maintains the elasticity of the skin. Turmeric powder can help to ward off any visible signs of aging.
Besan (gram flour) has antimicrobial properties and is known to remove dirt and toxins from deep within.
Naturally, reduce wrinkles with Yogurt which has anti-ageing properties. The lactic acid in yogurt will also help dissolve dead skin and tighten pores.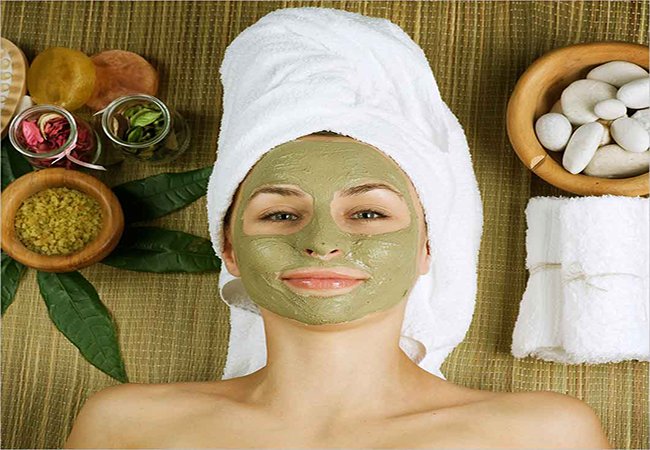 Directions
In a small bowl, take 2 tablespoons of gram flour; add a pinch of turmeric and 4 tablespoons of yogurt. Mix ingredients until the consistency of a smooth paste.
Apply all over the clean face and neck
Leave on for 20-30 minutes.
Rinse off with cool water
CASTOR OIL
Castor oil contains fatty acids that have moisturizing and antioxidant properties. The fatty acids present in castor oil may also help to minimize wrinkles but preferably from organically-grown castor oil plants.
Directions:
Clean facial skin and pat dry any moisture.
Take one drop of castor oil or the amount according to your requirement onto the tip of your fingers. Apply to all over your face and especially on wrinkle-prone areas. Avoid getting oil in your eyes.
Massage it gently against gravity.
Castor oil will take around 20 minutes to be absorbed in your skin so leave for that much time.
Wash it off with a herbal cleanser.
Repeat this massaging every morning &evening.
INDIAN GOOSEBERRY (AMLA)
Indian gooseberry is also known as Amalaki. Amla juice is rich in antioxidants that help to reduce signs of premature ageing, like wrinkles. Amla is an excellent source of vitamin C which not only boosts our immunity but also keeps our skin healthy and young.
Directions:
You simply need to apply the Amla juice all over your face and neck evenly.
Leave it on your skin for about 10 to 15 minutes
Wash it with cool water.
Repeat this process twice a week.
CUCUMBER & Yogurt
Cucumber has a long history of being used for preventing wrinkles. Cucumbers contain vitamin C and caffeic acid. These powerful antioxidants help build collagen and elastin in your skin and protect skin cells from the damaging effects of UV rays.
Directions:
Take half a cup of cucumber puree and mix with 3 tablespoons of plain yogurt making sure the resulting mixture isn't too thin and drippy.
Pat mixture on your face, and neck.
Let it sits for 15 minutes.
Rinse with cool water and pat dry.
HERBAL TEAS
Herbs help to soothe, stimulate, moisturize, tighten, heal, and cleanse the skin making them perfect home remedies for wrinkles.
Consuming 3-4 cups of herbal teas daily may help in your fight against aging.
ALOE VERA (ALOE BARBADENSIS), OATMEAL & OLIVE OIL
Aloe is a natural anti-aging agent; it has several skin-friendly vitamins and develops skin elasticity.It is a great anti-oxidant and thus helps keep the skin young naturally.
Take a fresh leaf of Aloe plant, wash it properly
Take out its gel in a bowl, one teaspoon of ground oatmeal and half teaspoon of extra virgin olive oil.
Blend the ingredients into a paste.
Apply it all over your face and don't forget applying on your neck too.
Leave it for about 30 minutes.
Rinse it off with cool water by massaging it gently.
Repeat weekly.
Note
Apply these above-mentioned Facemasks and within a short period of time, you'll see a major difference.
After applying these face masks, wrinkles will be less visible, the skin will look and feel tighter, and overall skin appearance will be more youthful and glowing.
INDICATIONS:
Causes for wrinkles according to Ayurveda:
Prolonged exposure to the sun
Insufficient water intake
Prolonged exposure to water leads to intensive dry skin
Stress
Excessive traveling
Pollution
Inadequate sleep
Natural ageing