A nutritious meal schedule is something which all of us want to follow. Yet the thought of eating healthy can be overwhelming because many of us don't know how to bring together tasty meals to replace unhealthy foods in our diets.
Some people get put off by the taste of healthy food because it tastes mild and bland. However, there are a lot of ways to prepare this kind of food that still makes it taste good.
All it takes are a few quick changes to take your meals from fat-filled to fat-free and healthy! Keep reading to find fun recipes that will change the way you think about healthy food.
Healthy Porridge with Greek Yoghurt
Ingredients:
5 ounces of porridge oats
1 cup of skimmed milk
1 tbsp honey
1 tbsp Greek yoghurt
A scoop of flaked almonds
The Method:
Place the oats in a medium saucepan and 200ml of milk. Stir well and then put over high heat until the mixture starts boiling. Reduce heat to minimum, and whisk while the porridge thickens for 3-5 minutes. Remove the pot from the heat and pour into another pot. Finish with a spoonful of milk, a little sugar, diced banana and smattering of toasted flaky almonds. And there you go! One cup of healthy honey-sweetened porridge for a healthy breakfast!
Healthy Scrambled Eggs on Toast
Ingredients:
2 egg whites
4 egg yolks
Some olive oil
A pinch of garlic powder
A handful of parsley
A slice of whole-grain bread
Tomato paste
The Method:
Put a non-stick skillet on the burner and switch to low heat. Splash some olive oil on top. Separate the four egg yolks into one cup from the cream. Keep the two egg whites in a separate container. You'll need them soon. Then, pour the 4 egg yolks into the pan, add the remaining egg whites and stir for 1 minute. Stir in a tablespoon of salt and black pepper. Remove the chopped parsley and garlic powder. Sprinkle with olive oil. Replace the eggs every minute or so until much of the eggs are firm but still appear fluffy. Toast the bread and scatter the tomato paste evenly throughout the dish. Serve the eggs on top of everything.
Healthy Tossed Salad with Greens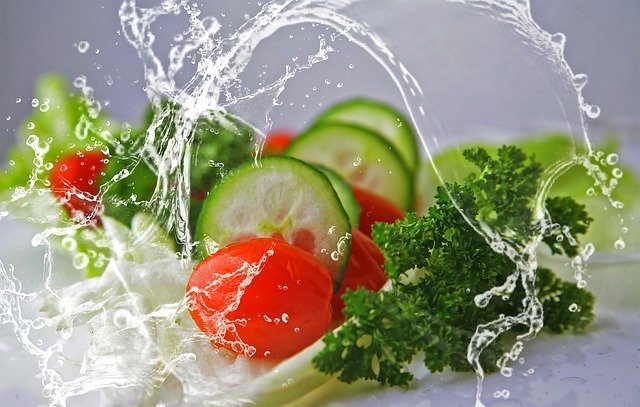 Ingredients:
A handful of arugula
Half a medium-sized avocado
Some roma tomatoes (sliced)
A splash of olive oil
Red apples (diced)
The Method:
Wash the arugula thoroughly until the water runs clear. Place the leaves in the center of a towel, roll up the two ends and shake this ten times to drive the remaining water into the towel. Place the arugula in a mixing bowl and make sure it's big enough to shake the salad properly. Make sure the Roma tomatoes are chopped into thin slices. Garnish the salad with sea salt and pepper. Sprinkle some olive oil. In the mixing bowl, add the tomatoes and sliced apples, and then mix with your fingers. With a sharp knife, cut the avocado open and pull the halves apart like you do a bottle. Peel off the skin of the avocado, and position it on a flat surface. Cut into quadrangles. Afterwards move to your salad and serve in a dish.
Healthy Omelette with Cherry Tomatoes
Ingredients:
3 large sized eggs
6 cherry tomatoes
1 tbsp olive oil (to fry in)
Some mixed herbs like parsley
The Method:
Cut the cherry tomatoes in two, or cut into thirds. In a non-stick omelette pan, heat the olive oil and pour in the tomatoes. Season with salt and pepper, and fry for 1-2 minutes on medium heat until the tomatoes are tender. Stir the eggs together gently to make a frothy mixture. Scatter the tomatoes over the spices, then dump in the eggs. Shake the pan then stir the mixture. Once the omelette is ready, fold it over with a spatula and slide into a plate to serve.
Healthy Turkey Burger
Ingredients:
Garlic powder
Some ground turkey (preferably low fat)
2 tbsp of olive oil
A whole grain bun
Some leafy greens
The Method:
Preheat a nonstick skillet with a pinch of olive oil. In the meantime, put all the ingredients in a mixing bowl. You can mix these with your hands as it's the most efficient way. Fold the mince and shape it into a patty shape. Add more turkey at this step if you want a bigger portion of burger. Cook the burger for 3 minutes on each side until well browned. Season the burger with some extra salt and pepper to taste. Serve on a bun that's piled high with leafy greens!
Healthy Peanut Butter and Chocolate Sandwich
Ingredients:
I ounce of dark chocolate (anything above 85% is optimal)
2 slices of whole grain bread
2 tbsp of organic peanut butter
Half of a banana (chopped)
The Method:
Warm up the dark chocolate until it becomes thin and liquidy, then add it to the bowl. Mix the chocolate with the peanut butter and make sure to make this a smooth mixture. Spread thickly on a slice of bread and top with the second slice. Grill until lightly toasted, then serve.
The Bottomline
If you're thinking of how hassle free meal prep will become, you're right! Eating healthy doesn't have to be a chore that you run away from. Instead, you can make it fun by adding ingredients and recipes that you will enjoy. Not only will you be treating your body better, but you won't be compromising on taste. Moreover, by making your healthy meals yourself, you will ensure that they contain only what you want them to, instead of getting risky ingredients from a takeaway place.
And if you are a home-based business delivering these meals, find out how pay as go delivery insurance can save you money.
And don't worry if you have trouble staying consistent with your healthy diet. You will face some ups and downs, especially if you're not used to being in the kitchen all day. But that's why these recipes work. They ensure that even the laziest cooks can whip up tasty meals in no time.