For parents of children who can not have gluten, hosting a birthday party can be very scary. Especially when you are trying to cater to everyone, serving foods that satisfy all kinds of appetite, and accommodate dietary restrictions.
Don't fret; there's absolutely no need to panic parents! You don't have to skip any of the traditional treats in favor of all gluten-free options. Here are simple ways to include a gluten-free diet into the tradition of a birthday party without compromising on the taste.
These homemade gluten-free treats are perfect for both kids and adults. The only prerequisite for preparing birthday party food is good quality ingredients. To save yourself time and effort of going to grocery stores, let Britsuperstore do it for you. You can choose from an extensive range of products, and get anything and everything delivered to your doorstep. Easy-breezy!
Gluten-Free Cookies
Image Source: Pinterest
The kids won't be able to resist these chewy, gooey, delicious gluten-free chocolate chip cookies.
Ingredients:
Unsalted butter (8 oz)
Cornstarch (¼ cup)
Brown rice flour (2 cups)
Egg (1)
Egg Yolk (1)
Whole milk (2 tbsp)
Vanilla extract (1 ½ tsp)
Tapioca flour (2 tbsp)
Xanthan gum (1 tsp)
Kosher salt (1 tsp)
Baking soda (1 tsp)
Sugar (¼ cup)
Light brown sugar (1 ¼ cup)
Semisweet chocolate chips (12 oz)
Method:
Melt the butter in a saucepan and pour it into the stand mixer's bowl.
In another bowl, add rice flour, tapioca flour, xantham gum, salt, cornstarch, baking soda, and keep it aside.
Add the sugars to the stand mixer's bowl and cream the contents together with the paddle attachment for 1-2 minutes. To the same bowl, add whole egg, egg yolk, vanilla extract, whole milk and mix the batter.
Then, add the flour mixture to the batter and stir to obtain a smooth texture. Similarly, add the chocolate chips and stir.
Refrigerate the dough for about 1 hour and preheat the oven to 375ºF.
Shape the dough into cookies and place them on the baking sheets. Bake for 15 minutes and then let them cool completely.
TIP: Rotate the pans to make sure that the cookies are evenly baked.
Gluten-Free Doughnuts
Image Source: Pinterest
Gluten-free doughnuts are wrapped in powdered sugar to create a sweet appetizer guaranteed to be kids' favorite. These dreamy doughnuts are super simple and delicious.
Ingredients:
Apple cider vinegar (1 tsp)
Soy milk (1 cup)
Ground flax (1 tbsp)
Water (3 tbsp)
Organic jaggery powder (¼ cup)
Vegetable oil (¼ cup)
Vanilla extract (1 ½ tbsp)
Gluten-free flour mix (2 ¼ cups)
Cinnamon (1 tsp)
Powdered icing sugar (½ cup)
Vegetable oil (4 cups)
Method:
Mix ground flax and water in a bowl and refrigerate it for 15 minutes.
In another bowl, mix apple cider vinegar. Let it sit for 15 minutes.
Heat up the vegetable oil in a pot to 375ºF. And meanwhile, start preparing the dough.
In another mixing bowl, add 2 cups of gluten-free flour mix with cinnamon.
Then, add ¼ cup of vegetable oil, flax mixture, and vanilla extract to the bowl with apple cider vinegar and soy milk. Beat the mixture well.
On a dry surface, spread out the leftover flour and place the dough on it. If the floor is sticky, knead the dough on the floured surface to make it less sticky to handle.
Cut 2 circles from this dough. Then, bring the leftover dough in a ball and flatten it again. Cut out more circles.
To create the hole in the center, lightly coat the thicker end of the chopstick with the excess flour and stick it in the middle of the circle and roll it around.
Place the powdered sugar in a bowl, and keep it right next to the fryer.
Ensure the oil is at 375ºF before placing the doughnuts in it. After one minute, use a frying spoon to flip them gently.
Let them fry for another minute.
Take them out of the hot oil with the frying spoon and place them onto a paper towel and remove the excess oil.
Then, roll the doughnuts in the bowl of powdered sugar while they are still hot.
Place them on clean plates and serve hot.
Gluten-Free Stuffed Potatoes
Image Source: Pinterest
Potatoes stuffed with cheddar cheese, sour cream, crisp pancetta, and fresh chives are perfect as an appetizer for the gluten-free birthday party.
Ingredients:
Potatoes (4) washed and pricked with a fork
Pancetta (2 slices)
Sour cream (1 cup)
Orange cheddar (1 ½ cup) grated
Butter (¼ cup)
Salt and pepper (as per taste)
Fresh chives (¼ cup) chopped
Method:
Cook the potatoes in the oven for about 15-20 minutes. Cook until tender.
Preheat the grill. Meanwhile, fry the slices of pancetta in a frying pan until they become crisp. Soak the excess oil using a paper towel and set aside.
On a clean surface, lay the potatoes and scoop out flesh by cutting a slice off the top of each potato. Set the skin aside.
Mash the potato in a bowl. Then add cheese, butter, sour cream, chives, and pancetta to it.
Add salt and pepper as per taste.
Stuff the skin of the potato and sprinkle with some more cheese.
Place the potatoes on the grate and grill until the cheese is cooked completely.
Serve hot with cheeseburgers.
Gluten-Free Sandwich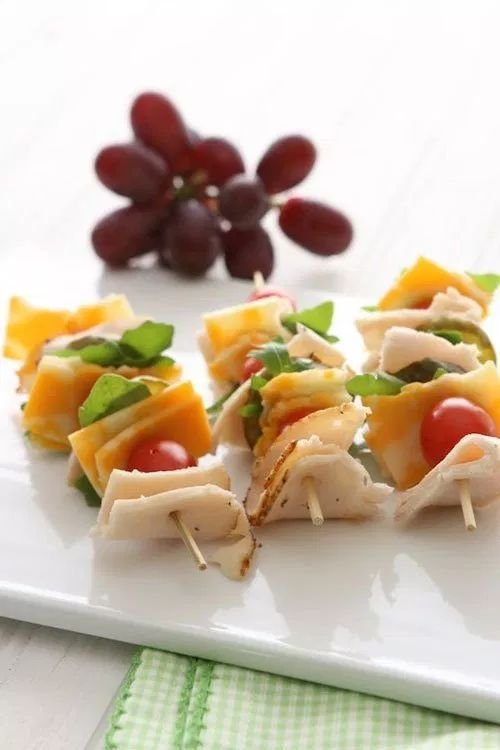 Image Source: Pinterest
This submarine skewer can be served with ranch dressing or mustard for dipping. Sandwiches on a stick are extremely easy to make and require only 20 minutes for preparation.
Ingredients:
Skewers (8 – 6 inch each)
Sliced lemon chicken (4 oz.)
Colby jack cheese (4 oz.) cut into small pieces
Chopped arugula (1 cup)
Grape tomatoes (1 cup)
Dill pickles (1/2 cup)
Ranch dressing or deli mustard (3/4 cup)
Method:
Soak all the skewers in water for half an hour.
Thread skewers with small pieces of chicken, tomatoes, cheese, and pickles.
Serve fresh with mustard or ranch dressing.
So here you have them — delicious, gorgeous, and most-importantly gluten-free birthday party recipes.
What is your favorite gluten-free party food?