Going to the gym is a great way to get into shape and have fun. But what about if you don't have a gym nearby or you don't want to spend money on a gym membership? A home gym is a great alternative.
You may be thinking that you can't possibly match the full gym experience in your own home, especially if space is limited. But you can go a long way to recreating it! Start by investing in these seven essential items.
1. Flooring
It all starts with the flooring. You don't want to damage the floor by dropping a heavyweight, so you'll need some type of protection in place. Don't assume that this involves a huge expense, however, because you can invest in small amounts of rubber flooring that can easily be positioned in your room. You could even just cover a corner of the room where you plan to use free weights and leave the rest uncovered.
High-impact rubber flooring is available in various thicknesses, and you should aim for 15mm or more to protect your floor and equipment from damage.
Even if you decide not to put down any flooring, make sure you invest in a good gym mat. This makes it more comfortable to work out and stretch, and you can roll it up small to keep it out of the way.
2. Aerobic Steps
Get your heartbeat going with a set of aerobic steps. What makes these a home gym essential? They are just about the most convenient way to enjoy a full cardio workout!
Small and light, they take up hardly any space. They are also portable, so you can move them around your gym with ease or even take them outside to use in the garden when you want a change of scene.
Aerobic steps provide you with a high-intensity workout in the comfort of your own home. They are popular because they are a great way to burn fat and build strength without putting stress on your joints, and they are a great way to lose weight.
3. Dumbbells
Dumbbells are a home gym essential. Small, simple, and affordable, they are also incredibly versatile. You can carry out almost an entire workout using a simple set of dumbbells.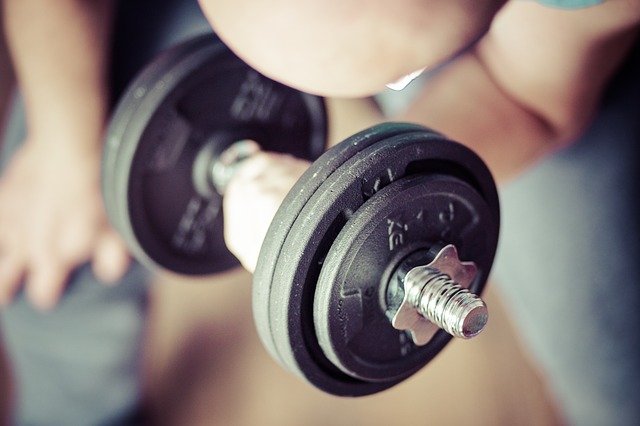 One of the great things about dumbbells is that you can use them to activate different muscles and work on strength imbalances. They can help you to increase strength, improve flexibility and boost stability, and you can even use them in aerobic workouts.
You will probably want a range of different weights as you build strength. One option is to invest in multiple dumbbells and a storage rack to keep them safely stored out of the way so your home gym is more organized. However, another option is to get an adjustable dumbbell set. This way, you can get a couple of dumbbells and multiple weights that can be changed according to your needs to save space in your gym.
4. Resistance Bands
Resistance bands make a fantastic addition to your home gym. Firstly, they take up literally no space, and you can even keep them in a draw. But like all the best home gym equipment, they are hugely versatile.
Resistance bands come in various sizes, and you can use them to increase strength and power. You can use them for strength training, power training, speed training and even rehabilitation.
Simply connect them to an anchor point like a squat rack or to the end of barbells and enjoy a full workout in no time by using them to add resistance to exercises like squats.
5. Kettlebells
Kettlebells are popular free weights that are a familiar sight in gyms around the world. They are especially popular in home gyms because of their versatility.
Kettlebells provide a total body conditioning workout to help you to improve your core strength, improve balance and boost mobility and flexibility. They are a good option for cardio workouts too.
Kettlebells are so versatile! There are so many workouts you can do with a single kettlebell. If you add multiple kettlebells to your collection, it will take up more space, but even one or two is enough to get going with.
Even better, these weights are portable. You can take them out to the garden or even take them to the park to enjoy working out in different surroundings.
6. Punching Bag
If you can find space for a punching bag in your home gym, you won't regret it. Actually, they don't take up much space, but you need to make sure you hang the bag securely.
Choose a high-quality punch bag that is made from a durable material like synthetic leather with a quilted design to optimize absorption. There are different sizes available, so find one that is the right size for your home. Once it's in place, you can quickly enjoy a fast and furious workout any time of the day.
Punch bags are perfect for increasing cardiovascular fitness and building muscle strength and endurance. They engage muscles in not only the arms but also the chest, legs, core, and back. Not to mention, they are a great way to let off some steam after a hard day!
7. Cardio Machines
Cardio machines take up more space in your home gym, but some are smaller than others. Many people enjoy using machines like rowing machines, cross-trainers and exercise bikes in their home gyms.
A treadmill will usually take up more space than other machines, but if you've got the space and you like running, it will make a great addition to your home gym, especially when the weather is bad and you want to run indoors.
Build Your Own Home Gym
Whatever your reasons for wanting a home gym, whether you want an alternative to your regular gym or you want to enjoy the convenience of working out at home, start with these essentials. With the above seven pieces of gym equipment, you can accomplish lots of your fitness goals – all without having to step foot outside your home!