If you have watched a mixed martial artist in action, you would have noticed their immense flexibility, incredible strength, and lean muscular bodies. Their performance is refined, and every movement strategy executed. You too can achieve the incredible focus, flexibility and health of a mixed martial artist with the best training program. Combat sport such as Muay Thai engages every muscle, joint, and physical sense. Many have agreed that the fast-paced sport produces fitness results faster than any other training method. If you are still not convinced, read on to discover just why mixed martial arts is the best way to achieve great health and lasting wellness.
Training in mixed martial arts helps improve overall coordination. As we get older, coordination and stability become increasingly important. It can minimize the risk of a severe fall and injuries. The ability to focus on every move, jab, and punch supports higher levels of physical coordination which increases your agility. Along with coordination and agility, you will boost your overall strength. The performance of a combat sport involves natural resistance as you engage your body in every movement rather than exercise using a set of weights. When you exercise at a gym using specific equipment only one area of the body is strengthened, toned, or conditioned. With resistance training in a contact sport, you engage the whole body. A sedentary lifestyle or sitting for extended periods can cause the muscle to weaken. Martial arts works the entire body so all muscles from the upper to the lower body are strengthened and conditioned. Kicking will strengthen your legs; punching will improve the condition of your arms while grappling encourages core strength. Every aspect of your movement is calculated and executed with precision. The training is all about enhancing your physical health and to do this, requires strengthening, flexibility enhancement, and improved cardiovascular wellness.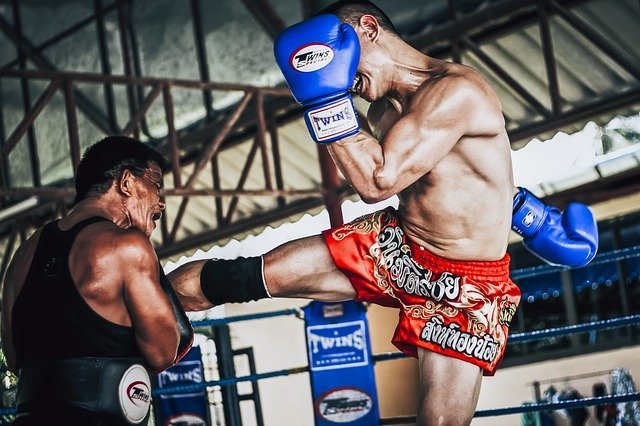 The more you engage in a higher-level activity, the more your heart rate increases. As your heart and lungs work more, the greater volume of oxygen and nutrients are delivered to the cells for energy. The longer you exercise at higher levels of intensity, the more you improve your energy levels and the condition of your heart. For athletes, combat sports are a major part of their fitness work or weight loss program. This is owed to the rate at which it builds endurance and stamina needed for sports performance. Most individuals who are in peak physical condition engage in some form of combat sport to maintain their weight and their well-being. The techniques also have a preventative influence against chronic diseases such as hypertension and high cholesterol. For those with a family history of chronic ailments, the all-around sport is an investment in your health and well-being. Muay Thai and similar styles of mixed martial arts will help you lose weight quickly. As you move, you will continue to burn calories and lose fat at the same time. This is how Muay Thai fighters maintain their lean and muscular physique. It is also the perfect body conditioning exercise for women who want to shape their bodies without adding heavy muscle or bulk.
Muay Thai for Better Health
You can achieve lasting health and exceptional balance with the practice of Muay Thai. The mixed martial art from Suwit Muay Thai is fast-paced, delivers spectacular results, and will leave you feeling fit and energized. Women are encouraged to participate in high-intensity sport to support wellness goals. You will burn an immense number of calories while toning muscle and strengthening every part of your body. A Muay Thai training class at Suwitmuaythai is fun and exciting. You get to learn new techniques and overcome limitations with the support of your trainer and fitness group. In Thailand, all participants can remain at the training camp and will be treated to incredible accommodation for the duration of their stay. With access to gym equipment and modern amenities, you can simply move from your rooms to a workout area. With immense group support, all persons will engage in the warmups introduced by a professional instructor. This includes outdoor activities from jogs and stretches along the beach to strengthening methods using jump ropes and a variety of exercise apparatus. The exercises encourage high levels of fitness and support as it focuses on the development of the muscles and the flexibility of the surrounding joints. The fast-paced combat sport is the perfect workout plan for men and women who wish to reach their ultimate wellness goals. You can plan an entire holiday on the beautiful island of Phuket where the Muay Thai training camp remains one of the most popular attractions. The benefits of Muay Thai for health are endless. From strengthening and conditioning your muscles to increase your energy while losing weight, the results are incredible. Not only can you achieve weight loss more effectively and improve your overall well-being, but you can address mental stress and fatigue too. Muay Thai training at a specialized camp will ease your stress and build confidence. Along with the changes, you will notice in your body, a multitude of mental changes will occur too. Many who have suffered from chronic stress, anxiety, and depression have found a renewed sense of purpose and energy with Muay Thai. The mixed martial arts provide immense support for physical and mental well-being. It is also a unique way to meet new people and form lasting friendships.
A Muay Thai training camp in Thailand offers the best of both worlds. Every participant can enjoy the thrills and the sights of a holiday on the island of Phuket along with the excitement and rewards of fitness training. You can take charge of your health today by participating in a powerful sport in mixed martial arts. The techniques are fast, exciting, and will sharpen your mental focus and alertness. At a Muay Thai training camp, you have the opportunity to learn how to spar, grapple, and punch with the very best Muay Thai instructors in the world. Protect your best interests by investing in and prioritizing your health.