Some people think that jerkies can only be prepared and eaten by traditional means. I would not accept this, as I am fond of innovating the food that I create. There is fun in creating new variations to the common recipes you can find in the kitchen. For example, eggs can be turned into an omelet, scrambled, or sunny side up.
When it comes to jerkies, I can see that people are beginning to explore the great possibilities behind them. The fact there are people who can create jerkies out of lamb and bear meat is proof that this particular delicacy is not static. As for me, I have other ways of reinventing this delicacy.
Health Benefits of Eating Beef Jerky
Beef jerky is a popular snack made from lean cuts of beef that have been dried and seasoned with various spices and flavors. While beef jerky can be a convenient and tasty snack, it's important to consider its nutritional value and potential health benefits.
Here are some potential health benefits of eating beef jerky:
High in protein: Beef jerky is a good source of protein, which is important for building and repairing muscles and tissues.
Low in fat: Beef jerky is generally low in fat, especially saturated fat, which can help reduce the risk of heart disease.
Low in carbs: Beef jerky is also low in carbohydrates, making it a good snack option for people who are watching their carb intake.
Rich in iron: Beef jerky is a good source of iron, which is important for the formation of red blood cells and oxygen transport in the body.
However, it's important to note that many commercial beef jerky products can be high in sodium and preservatives, which can have negative effects on health. So, when choosing beef jerky, it's important to read the label and choose products that are low in sodium and preservatives. Additionally, it's always best to consume beef jerky in moderation as part of a balanced diet.
In this article, I have listed some simple recipes that you can make involving jerkies. Now, there is a twist on these recipes. Most of them are derived from a diet regimen called Paleo. I know most of you are familiar with this. Currently, this diet is among the most preferred course of many people because it doesn't remove "taste" and "deliciousness" from the equation.
Check out these unique jerky recipes!
5 Delicious and Healthy Ways to Eat Jerky
Jerky in a Fresh Salad
We love to eat salads, especially during breakfast and dinner. This food satisfies our appetite without demeaning our health at all. Since its inception, the salad has been subjected to various renditions. But this time, let's add the jerky into the mix. After all, it is not a bad idea to add meat to salads!
Ingredients:
Beef jerky (1/4 pound; chopped)
Lettuce (1 cup)
Tomato (1 plum)
Olive (2 tablespoons)
Cucumber (1/4 cup)
Steps:
The first thing that you need to do is to slice the cucumber and tomato. Next, use a bowl and place it over the lettuce there. You should put the tomato and the cucumber as the toppings.
After this, add the chopped beef jerky and olive oil to the mix. Stir the salad thoroughly until all of the ingredients would blend properly. Enjoy eating the jerky salad!
Jerky and Pemmican
The pemmican is a favorite of outdoor adventurers and hikers. This particular food is a great survival amenity because it has a long lifespan and contains a good amount of calories and protein. Native Americans were the ones who invented this delicacy so that they can survive long winters and migrations.
Specifically, the pemmican is a combination of different dried meat that has been turned into powder. Sometimes, people would include dried fruits in the ingredients, too. Of course, things would be better if we include smoked beef jerky in the mix. The taste and nutritional contents of this food would certainly double!
Ingredients:
Beef jerky (1/2 pound)
Spinach (2 cups)
Blueberries (1 cup; frozen)
Animal fat (2 teaspoons)
Coconut oil (1/4 cup)
Steps:
Put the blueberries in a preheated oven with a temperature of 150 degrees Fahrenheit for around 12 hours, or until such time they will dehydrate.
Next, place the spinach, dehydrated berries, and jerkies in a food processor. Pulse these ingredients and pour them into a large bowl.
You can get animal fat from any meat you prefer. Just use a strainer so that you can filter out the meat chunks from the fat. After this, mix the coconut oil and fat together with the jerky and berry mixture. Stir them properly until you can get a sticky texture. If you notice that the mixture is too soft, you can add the almond flour. When this is done, you can turn the mixture into pemmican balls.
Tomato Sauce with Jerkies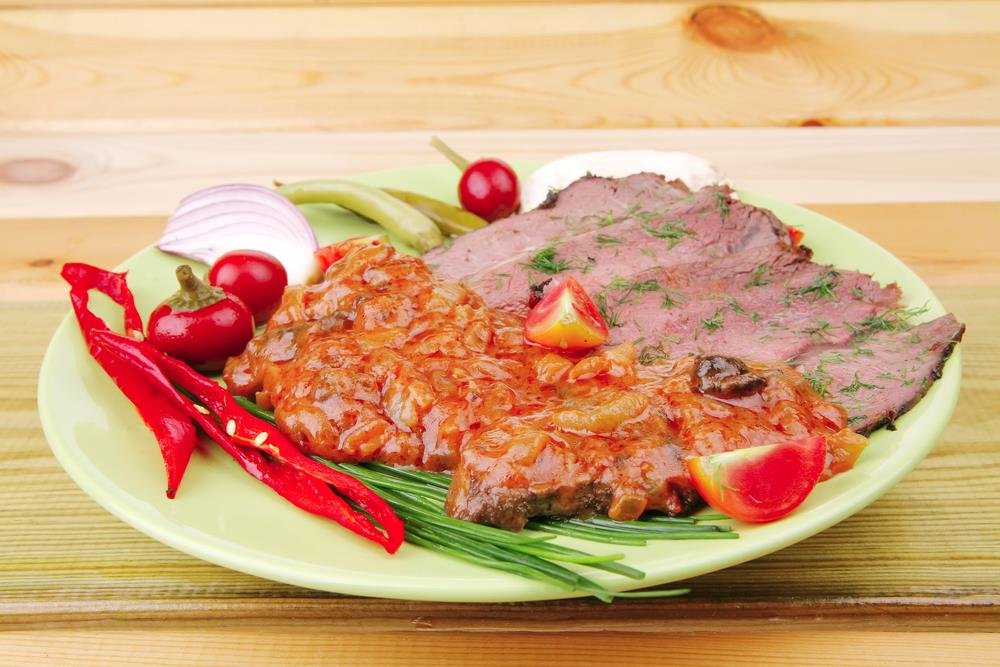 It is a good thing that you can make your very own tomato sauce. This will allow you to create multiple variations of this particular condiment. As a result, you will be able to make a sauce that can complement a certain dish or cuisine. Of course, there are a lot of ways you can modify a tomato sauce. One good example to do this is by including jerkies in the recipe!
Ingredients:
Diced tomatoes (1 can)
Onion (1 bulb; diced)
Garlic clove (2 teaspoons; minced)
Olive oil (2 teaspoons)
Beef jerky (1/4 cup; chopped)
Pepper (1 teaspoon)
Salt (1 teaspoon)
Steps:
Pour the olive oil into a skillet on a medium heat setting. After 5 minutes, add the garlic and onions and begin stirring the mixture. When the onion and garlic start to brown, you can already pour the diced tomatoes. Make sure that you put the mixture to a slight simmer. Do this for around 10 minutes.
Take out the tomato mixture from the skillet and let it cool for a while. Next, pour the sauce into your food processor and blender and begin pulsing it. If the mixture is already fine, pour it back to the skillet so that you can stir it with the chopped pieces of beef jerky.
Modified Omelette
An omelet is not a new dish for us. It has been on the platters of humanity since time immemorial. But this doesn't mean that the omelet has no chance of evolving at all. With the addition of bacon or beef jerky, you can turn this simple dish into a fantastic meal you can have for your breakfast!
Ingredients:
Coconut oil (two teaspoons)
Eggs (three pieces)
Beef or bacon jerky (1/4 pound; chopped)
Pepper (1/2 teaspoon)
Salt (1/2 teaspoon)
Steps:
You need to put a skillet on a medium heat setting and pour the coconut oil there. While doing this, start mixing and whisking the egg. After a minute or two, you can add the eggs to the skillet. Make sure that you spread them equally.
Once you notice that the edges are starting to form, add the chopped jerky. In this way, the latter will settle smoothly with the omelet. Using a spatula, fold the omelet in half equally. Next, flip it to the other side so that you can achieve an even result.
Jerky as Additive to Soup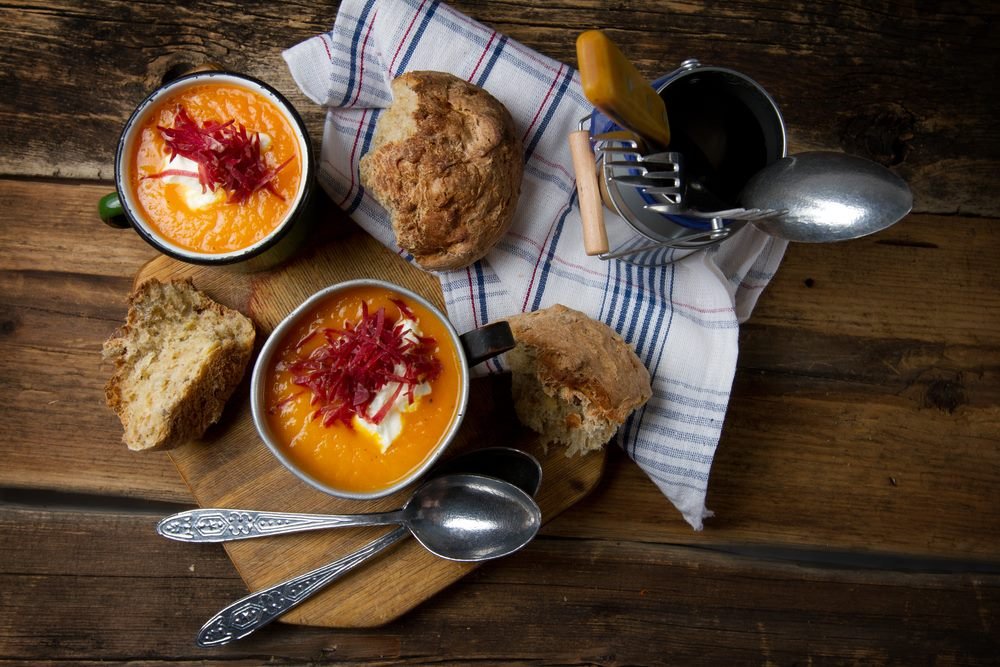 We just love to savor the flavor of any soup. It is among the liquid dishes out there can awaken or settle our appetites. Therefore, it has been a valued food in any kitchen table. When it comes to nutrition, I cannot say that this food is lacking. However, why not bolster its content by adding jerkies? Here is how to do it!
Ingredients:
Olive oil (1 tablespoon)
Diced tomatoes (1 can)
Onion (1 teaspoon; diced)
Garlic (1 teaspoon; minced)
Carrot (1/4 cup; chopped)
Celery (1/4 cup; chopped)
Beef jerky (1/2 cup; chopped)
Chicken broth (1 cup)
Steps
Start heating the olive oil in a skillet with a medium-heat setting. After five minutes, add the garlic, onion, carrots, and celery to the skillet. Stir them properly for another three minutes. Next, pour the diced tomatoes and stir them for the next two minutes.
After this, add the chicken broth and beef jerky to the skillet. Simmer them until such time the carrots are already soft. Your soup is now ready for consumption!
Conclusion
As you can see, jerky is a versatile ingredient in the kitchen. If you are just creative enough, you can add this food to any normal recipes and turn them into amazing dishes! The ones that I have shown you here are just examples of what you can do with jerkies. Therefore, why not try them for yourself?Merken
Merken
Merken