Traditionally considered as a difficult recipe, Adadiya Pak is one of the famous Gujarati sweet dishes. Let's make it simpler for you to understand & prepare. Read below to get the complete details on the dish.
Ingredients for Adadiya Pak

:
Laddu besan – 2 cups (Gram Flour)
Wheat flour – ¼ cup
Urad atta – ¼ cup (Black Gram Flour)
Ghee – 1½ cup (Oil)
Dates & coconut powder – ¼ cup chopped
Shingoda atta – ¼ cup (water chestnut flour)
Cardamom powder – to taste
Ganthoda – 3 tbsp (Ginger Powder)
Methi powder – 4 tbsp (Fenugreek powder)
Sugar – 1 cup
Ground floor – ¼ cup
Silvered almond pistachio – For garnishing
Recipe of Adadiya Pak

:
4 pounds of laddu besan is required and 1 pound urad atta is used. The urad atta is kept in the ratio of ¼th of laddu besan.
You need to start by melting 1½ cup ghee in a pan.
After the ghee has melted you need to start adding the laddu besan. Make sure when you are stirring the besan, it is on a medium frame.
The cooking for the mixture has to go on for about 20 minutes on medium frame. Don't miss to stir in between.
The trick to understand when you need to put off the flame is when the color starts changing and you can smell the aroma of the mixture.
Next you need to take a separate pan to cook the urad atta and after that the wheat flour has to be added. After they are mixed properly and cooking is done, the same procedure is applied for Shingoda atta.
After all the above is done, take dates and coconut powder and start cooking them. After cooking both of them for about 5 minutes, add ground almond to this mixture. Make sure to use a flat spatula, which makes it easier for mixing everything.
Next all the mixtures have to be added and 3 tbsp Ganthoda (Peepramul) & Ginger powder are added to it. 4 tbsp methi powder is added in the pan. Don't forget to add cardamom powder to this mixture and mix everything properly.
After the mixture has cooled down, addition of sugar should be done and again mix it properly.
Lastly you need to put the mixture in a large plate and flatten the mixture with the help of a flat bowl.
Leave this mixture for a few hours in the plate and cut it into rectangular pieces. Garnishing it with dry fruits and serve to your guests.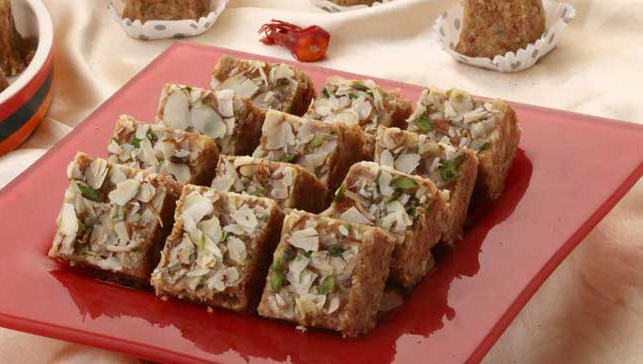 Health secret to Adadiya Pak:
Different ingredients which are used for Adadiya Pak preparation have healthy properties that make it a wholesome meal for people of all groups.