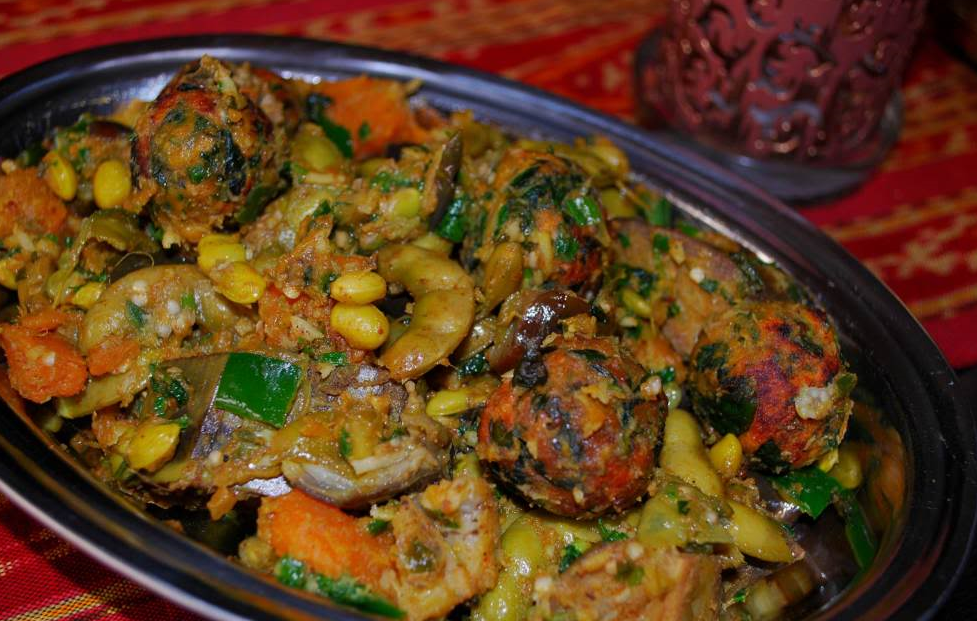 Winters are the time when one can enjoy with best of the vegetables and fruits.
Undhiyu is a traditional, mouthwatering Guajarati vegetable recipe which is an awesome combination of assorted seasonal vegetables along with fresh Indian herbs. Generally made during Uttarayan (Makar Sankranti) Festival
So why to wait let's get started preparing Undhiyu.
Here We Go
Ingredients
100 gms or 1 cup surti papdi (fresh vaal)
100 gms or 6-8 small brinjals
100 gms suran (yam), peeled into 2 inch cubes
100 gms unpeeled raw bananas, 2 inch cubes
2 large unpeeled potatoes, 2 inch cubes
1 cup fresh pigeon peas (Tuvar)
1 cup fresh green peas
½ cup fresh green garlic (lehsun) chopped
1 cup fresh finely chopped coriander (dhania) leaves
4 to 5 green chillies, crushed
1 cup coconut scrapped
1 tbsp grated ginger (adrak)
4 tbsp oil
1 tbsp carom seeds (ajwain)
1/4 tbsp asafoetida (hing)
1/2 tbsp turmeric powder (haldi)
1/2 tbsp sugar
Salt to taste
Lemon juice to taste
For preparing Undhiyu, first one needs to prepare Muthiya, lets quickly do it.
For Preparing Muthiya 
1 cup Wheat Flour (atta)
¼ cup of Gram Flour (besan)
1/2 cup Fenugreek Leaves (methi), finely chopped
1 – 2 Green Chilies
Small piece of (1/2 inch) Ginger
5 gms whole jeera
5 gms whole dhania
¼ teaspoon. turmeric powder
1 teaspoon red chilli powder
1 teaspoon sugar
Salt to taste
1 cup water
Oil to deep fry
How to prepare Mouth Watering Muthiya's
First of all mix all the ingredients of Muthiya except oil and prepare firm dough
Divide this dough into small portions and shape each into one-inch long half-inch thick rolls
Heat oil and deep fry the Muthiya's on medium heat till cooked through and turns light golden
Drain and place on an absorbent paper and set aside to cool
Directions for making yummy Undhiyu
Heat the oil that was used to fry Muthiya's, fry the potatoes and yam (suran) separately till they turn light golden. Drain them on an absorbent paper and set aside
Take a bowl and prepare stuffing by mixing together green peas, coconut, ginger paste, green chilli paste, green garlic, coriander leaves, a pinch of sugar, lemon juice, and salt
Now stuff this stuffing mixture into the slits of raw bananas and brinjals
Heat the remaining oil; add ajwain, pigeon peas (tuvar), surti papdi and sauté. Add salt and half cup water, cover and cook for three to four minutes. Then open the lid and add a little of stuffing mixture. Now place brinjals in a layer over this and sprinkle a little of stuffing mixture over this too.
Similarly make a layer of raw bananas pieces and once again sprinkle the stuffing. Over this place a layer of yam and fried potatoes. Add the remaining stuffing over the same. Sprinkle two to three tablespoons of oil and toss a little.
Now cover and cook for ten minutes on a very slow flame. After 10 minutes open the lid and place the muthiyas, cover once again and cook for about half an hour on a very flame till all the vegetables turn soft.
Decorate this with fresh coconut and coriander leaves
Undhiyu is ready! 🙂 Serve this delicious Undhiyu with hot puris or parathas or rotla's and jalebis.
By the way, here is the Video recipe of the same Undhiyu (Thanks to Bhavnaben, Sudhaben and Govindbhai for the Video)
Thanks for being on FoodnHealth.org (FnH). Hope you enjoyed the Undhiyu Recipe and will make it for your family! 😉