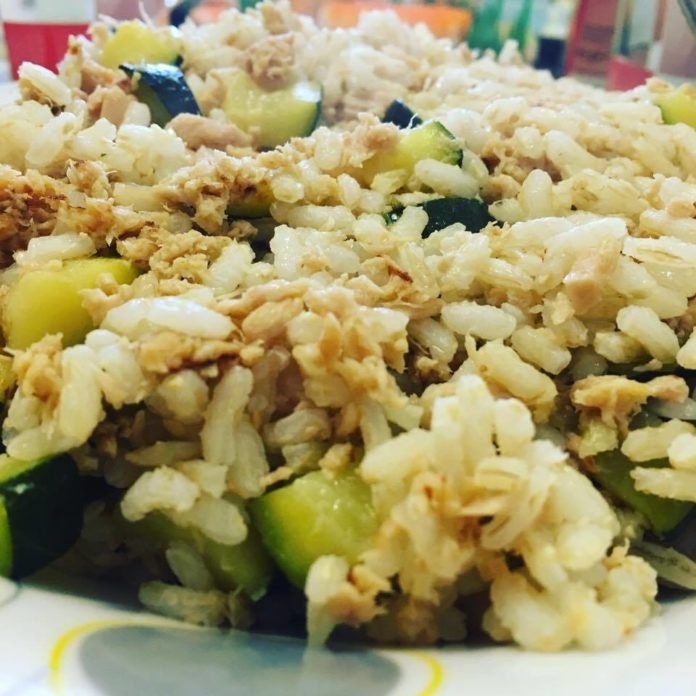 Brown rice with tuna and zucchini is one of the most full meals from a nutritional point of view. It contains all important nutritional groups in a balanced way: carbohydrates, provided by rice; proteins, provided by tuna; fats, provided by evo oil; dietary fiber and vitamins, provided by zucchini.
What you need
Brown rice -> 80g
Tuna (in brine) -> 100g
Zucchini -> 2
EVO oil -> 10 ml
Salt -> what is necessary
Pepper and garlic -> what is necessary
Preparation
Begin by frying lightly garlic in oil, add the red pepper and immediately after the zucchini cut into cubes. Sautee ten minutes on high heat, add salt and then tuna. Continue to cook until tuna is sufficientely browned. Meanwhile boil water, add salt and then the rice. Drain it a minute ahead of schedule and go over in the pan with the sauce.
Tips
You can keep the rice in the refrigerator for 2-3 days at most. As said, it is a meal very good nutritionally, which can be eaten at lunch or even better after workout.
For other healthy recipes check the links below:
https://foodnhealth.org/jam-tart/
https://foodnhealth.org/fresh-tomato-spaghetti/