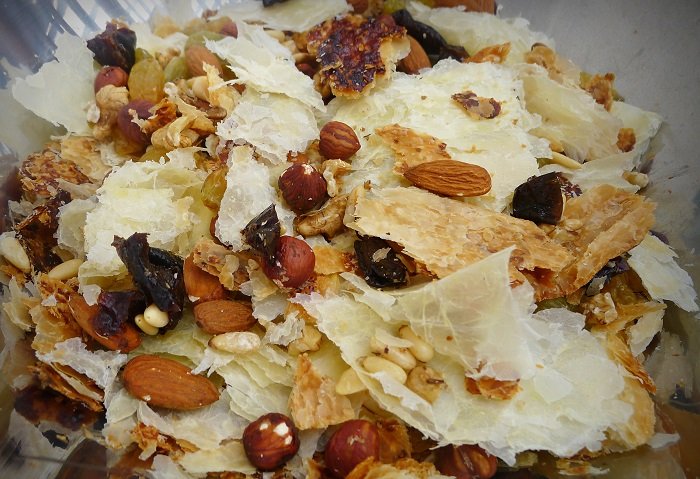 Stuffing/ Ingredients
Umm Ali, which means, is a cuisine of Egyptian origin. This cuisine gets its name from the woman who has invented this dessert. The ingredients/stuffing of Ummali consists of the following below mentioned ingredients.
Ingredients of Umm Ali –
8 tbsp (tablespoon) of sugar
6 tbsp(tablespoon) of milk that is condensed and sweetened
Bread pieces in seven numbers
Two tablespoon of coconut that is shredded
Milk cream amounting to 375ml
2 cups of milk
¼ cup of almonds, pistachios and raisins chopped
Technique of Cooking Umm Ali
Cooking Ummali involves the following technique as mentioned below-
Slice the bread into small sizes and combine these pieces with coconut, pistachio and almonds and raisins evenly in an ovenproof baking dish.
Both milk and condensed milk should be boiled along with 3-tablespoon sugar in a separate pan.
The liquid consisting of milk/condensed milk should be spread on the bread to enable the bread mixture to soak it.
The next thing to do is to mix or add five tablespoon of sugar to the cream and then spreading this cream over the bread along with milk mixture.
Next step involves placing the ovenproof baking dish in the preheated oven (preheated at 200° deg C) by using the grilling part of the oven and then grill the dish for five minutes or until the cream topping turns into golden color.
This dish can also be baked for 15 minutes at 175 degrees Celsius.
Chill the dish before serving it to the guests.
Ummali tastes good when served cold. However, it can also be served warm.
Fact Files about Umm Ali
Umm Ali dessert to cook takes about 45 minutes time to be ready to be served that means it takes about 15 minutes as preparation time and about 30 minutes for cooking it. Instead of bread, pastry pieces can also be used as ingredients. It is recommended to check for sweetness and adjust the amount of sugar and condensed milk as per the requirements.
Health Check on Umm Ali
The health benefits of Ummali are due to its milk content and dry fruits.
It is rich in proteins and carbohydrates that give the body enough energy to perform day-to-day activities.
This dessert is rich in fiber due to ingredients used such as dry fruits in the form of nuts, pistachios etc. This dish is recommended for breaking fast during the Ramadan days and during winter.
The milk in this dish is a rich source of Vitamin A that helps in improving vision and growth of healthy skin.
Due to large amount of calories (600) and fat content, consuming this dish helps the body to retain warmth during the wintery days that results in protecting the body from infections such as cold and flu during this season. During the fasting season, when the human body requires strength to perform day-to-day activities, Umm Ali recipe is a good way to break the fast.
Nutritional Composition
The nutritional composition of Umm Ali consists of the following measurements based on a 2000-calorie diet.
Calories – 662, Calories from Fat – 336, Total Fat – 37.3 g (Saturated Fat – 14.7 g) Cholesterol – 62mg, Sodium – 238mg, Potassium – 449mg, Total Carbohydrates – 75.4g
Dietary Fiber – 4.6g, Sugars – 48.3g, Protein – 9.3g, Vitamin A – 8%, Vitamin C – 5%
Calcium – 10% and Iron 16% are the nutritional composition of this recipe.
The good part of this Arabian cuisine is that it is low in sodium even though it is high in saturated fat and sugar content. However, by using the skimmed milk one can bring the calorie count down during the fasting days.